A world of trade
Sunday, July 31, 2005



Businessman brings buyers to faraway doors

By Bhagavathy Umamaheswar
The Capital-Journal

A businessman with a vision. A man who's seen two worlds -- swanky high-rise buildings in New York and dusty roads in India.

R. Khubchand left his home country, India, in 1960 to get an education in Germany and Sweden. After he graduated, he was sought after in the job market and worked at some well-paying jobs.

After 13 years, his burning desire to go back to India changed his life's path. All he needed was an idea. With his education, certain steadfast philosophies and a penchant to succeed, Khubchand, who is also known as Mony, set up his company, Indus Valley, in 1983 in India's capital, New Delhi.

The company Khubchand started in his grandmother's house with a few hundred dollars now strikes business deals with companies in five continents and over 32 countries. He recently was in Kansas City, Mo., talking with managers at Hallmark Cards.

Indus Valley is a buying office representing wholesalers, importers and speciality stores buying consumer goods from India. The main categories are home furnishings, textiles, giftware, jewelry, garments and leather goods.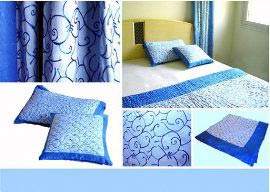 Submitted
Bed linens, pillow shams and curtains are just one of the lines Indus Valley offers. Gifts and home accents also are among the lines, which include with clothing, accessories and leather goods.
How did your education help you?
Studying abroad not only helped me gain knowledge of subjects, but also in general that people, irrespective of their birth, have equal opportunities. One learns to respect people as individuals and not for their titles/designations. I also learned that societies could function properly, without having to pull strings.
I first thought I would use my engineering skills. But as the young Indians were also very bright, I decided to be on they marketing side. I had been doing a marketing job in Sweden after completing my studies there in 1967.
When did you go back to India? Why?
I went back in 1973. Materialistically, I had all I ever wanted. But I felt rather lonely and realized that even if I spent the rest of my life there, I would never look like a Swedish guy.
What inspired you?
I had no real inspiration per se. I just wanted to belong somewhere.
People suggested I get married. I married an Indian girl whom I met in Sweden. It was quite romantic and unusual. So, even the press suggested we have an Indian wedding in the heart of Stockholm -- which we did. There was a lot of coverage. It was registered as the first civil marriage at the Indian Embassy.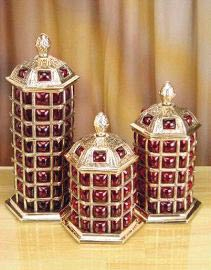 Submitted
Bed linens, pillow shams and curtains are just one of the lines Indus Valley offers. Gifts and home accents also are among the lines, which include with clothing, accessories and leather goods.
Things worked out fine, but then there were two of us wanting to go home.
When did you start your company?
Everyone had told me that having lived abroad for so many years, I would never be able to survive in India. They were quite right. Things were chaotic, and I just couldn't understand how they functioned. I took up jobs and quit because I was not willing to do things that I felt were wrong.
I felt that the only way I could continue was to try something on my own, which I did in 1983.
How did you stumble upon the idea for your company?
I felt that India had a lot to offer. But because of its size, diversity and scattered production centers, many in villages, it was necessary to have a local office which could handle things professionally.
The art and handicrafts in India drove me crazy, and so I guessed there would be many others abroad who thought the same way, and maybe I would get something going with them. Having lived abroad for so long and traveled to many countries, I felt that I could understand others better and also be a supporting hand to them.
Indus Valley was founded in 1983. We basically help companies doing business with India, mainly in the field of consumer goods, ready-to-wear garments, textiles, fashion accessories, giftware, etc.
What is Greenfields?
Over the years, the company started growing and as we had to take on new promises, at another address, it was suggested that we form a new company. We hence chose the name Greenfields, and it started in 1996.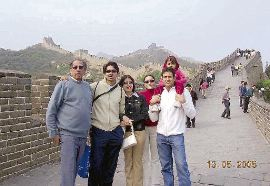 Indus Valley is a proprietorship. Greenfields on the other hand is a partnership with my son, daughter and me.
How did you build your network with manufacturers, retailers and dealers?
We call ourselves a buying office and we represent foreign companies. We are paid by them for the services we render. It is quite similar to their having their own office in India. Many of the companies we started representing, started with us from scratch, and are now big names in their own countries.
Initially we targeted companies which did not want to do business with India for some reason or the other, but had the potential. These then, some of whom we have been representing for almost 15 to 20 years, have become our biggest promoters. In fact, most of the companies who now approach us have been put on by others we work with.
Who are your vendors?
Since we are working with buyers in six continents, and many countries with varied tastes, we have to have a big vendor base. This helps us cater to their individual requirements.
Although we have about 200 vendors, at least half of them should be very pleased with the amount of orders we give them.
How has the growth of the company been over the years?
There are ups and downs in the individual countries. But on the whole we have been able to maintain a steady growth of 10 percent to 15 percent per year.
What are your plans for expansion?
We have to make sure that things are in place when we take on more business. During the past few years we have quadrupled our office space.
What is the company's vision?
This is very important. Living abroad taught me many things. Instead of complaining about things, one should use one's energies to try to do something about it.
Each effort counts. We wanted to show that despite the hurdles or problems or corruption, it is possible to survive in India by being honest and correct. This is what we impart to all those working with us and others who we can influence.
Honesty, integrity and character are vital. In fact, among the buying houses, we are known as the "gentlemen of the trade" and are quite proud of it.
What are your hobbies?
I collect stamps. Only Indian mint. My collection goes back to the 1850s, when the first ones were issued. I am missing about a dozen but they are difficult to get hold of. But I've managed to get some from dealers in the UK and USA. I want to complete it and so I keep trying. I also compiled a family tree. Everyone spoke about this, but when my father asked me to compile one many years ago, I did. I forwarded it to people all over the world. Many were surprised to note that they were actually related to people they associated with.
What are your personal goals?
I spend a lot of time helping teach people the values of life, in whatever way I can. Since I am genuinely interested in their well being, they tend to open up and in the process make it must easier. I would like to continue with this without any financial involvement.
How is it like having been bitten by the travel bug?
It is an education and is very important. When the children were young, for every vacation we traveled around and roughed it out in India. We traveled by train, bus, cart or any mode of transport and covered almost the whole country. Now, we make it a point to go abroad on holiday. We all go together, at least once a year to meet our customers and also see new places. Our friends abroad call this the "Mony Shuttle." Despite all our hectic schedules, all six of us hop on and make a trip. I've been to all the continents, save Antarctica.
What are your basic guiding philosophies?
The easiest thing to do is to criticize something. We do not allow this, but one is free to do so if one has a better suggestion.
With any individual, you can find many things wrong, but look for something nice in them, and you will be amazed how wonderful any person can be.
When doing things for others, never think of the returns, you will always get less than you expected. Do it because you genuinely want to.
Bhagavathy Umamaheswar can be reached at (785) 295-1275.